IMPORTANT MUST READ NOTICES are Highlighted
MAIN

Pictures of our 6.5TD truck
NOTICE:
About
Discussion
Forums
Scroll Down for Duramax info & items

Recommended
Products for
the GM 6.5TD
Gauges
6.5 Dash Mounted Adjustable FUEL Control
Transmission Control 4L80E
6.5 TD Performance Cool Air Intake
6.5 TD Turbo Downpipe
______________
COOLING:
WATER
Mist Injection
Aftermarket
Fan Clutch WARNING
6.5 TD Intercooler
ADVICE
Dual Auxiliary Electric Cooling Fans
6.5 Hi-Flow Dual Thermostat Cooling Upgrade
______________

6.5 Oil Cooler Hoses/Lines
NOTICE and Upgrade parts
______________
Serious POWER:
______________

6.5 Gear-Drive
Timing Set
WARNING
6.5 Pistons, Low Compression, ADVICE
______________

Headlight Light Switch Saver and Light Intensifier
Oil Pressure Switch Saver
Ignition Switch Saver
______________
6.5 Stock Airbox
6.5 Stock Exhaust
___________________
Recommended
Products for
the Duramax
Duramax 6600 Performance
______________
The Magnus-Moss Warranty Act ______________
GM 2001 HD Silverado / Sierra Power Launch Tour
______________
1979 Pontiac Limited Special Edition Trans-Am
______________

TRANSMISSION CONTROL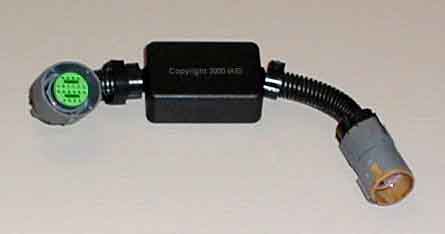 The 4L80E is an electronic controlled automatic transmission with overdrive which was based on the dependable General Motors Turbo Hydramatic 400 series transmission. This is a very good transmission, however often under some heavy duty, performance and towing applications the transmission can slip or require increased line pressure and/or better shifting.
The Transmission control is a device to allow that adjustability and give the characteristics that would typically require a involved installation in the transmission and valve body of a 'shift kit'.
This Transmission Control is a device that is 'plug and play'.
Improve shifts by adjusting line pressure
Firmer shifts = less slippage
Easy 'plug n play' installation
OEM connectors
More line pressure can reduce slippage that burns up clutches aka 'friction discs' and bands.
NO need for 'shift kits' or inside transmission work
NO Pan removal
NO fluid removal
Adjustable TCC [torque converter clutch] apply.
TCC can be delayed to allow engine to get further in to torque / powerband before TCC apply lowers rpm, this is very helpful while towing.
Limited time offer, ONLY $139.95

inquire today at a1customs@aol.com

Modifications, Performance Enhancements & Upgrades, and the 'Growing' process.
As time and budgets permit you can 'grow' and add the desired performance parts and modifications in stages so you are not breaking the budget while trying to get your GM 6.5 Turbo Diesel to respectable performance levels.
Another great thing about the Boost, Fuel and Transmission Controls offered here are that they are adjustable, typically when you modify power levels the settings should be adjusted for optimum performance, with the Controls this is very easy and takes very little time.
With a "chip" or "programmed exchange computer" the setting is just that and non-adjustable, so then you may need to get another or have another new custom chip or computer programmed at even more expense or live with something that is not optimum.
As an example:
Say you get a 'chip' or 'exchange computer' well those have a fixed fuel setting, so once you add a performance exhaust system or even a high flow air filter, the engine be flowing more air, the computer may try to adjust for this but to get the best out of the parts you can add more fuel to keep the proper ratios to attain the optimum power or mpg levels.

Special note for 1996 and later models:
Additionally the 1996 and later OBD-II computers do not have a 'chip' that is easily changed and they usually require you purchasing and 'exchange' or modified computer. There are a few problems with that.
The computer you get is not your original and can be of unknown condition.
Once you 'exchange' your original computer it is gone, then you have no way to return your vehicle to stock easily, sure you could keep your computer but the core charge often is around $600 so that is cost prohibitive, because you'd be spending around $1200.00 or more just for the performance gains, and that is not very cost effective.
When GM does a 'software' or computer upgrade, you may lose the expensive exchange computer you may not even notice it missing until you notice decreased power levels, by then it may be too late to get your 'exchange' or modified computer back. Then would you want to let GM know you changed your computer?
If GM or its dealers discover you have a non-stock computer, they will likely try to VOID any warranty claims that are related to the computer system, and on these engines that is a LOT of systems that are connected to the computer and some very expensive parts to lose coverage for.
The Controls offered here are easy to remove and install so if you have any concerns about a trip to a dealership for warranty work or other service, you can simply remove them in minutes.


inquire today at a1customs@aol.com

Email =for more information.

E-mail for more info a1customs@aol.com

<