IMPORTANT MUST READ NOTICES are Highlighted
MAIN

Pictures of our 6.5TD truck
NOTICE:
About
Discussion
Forums
Scroll Down for Duramax info & items

Recommended
Products for
the GM 6.5TD
Gauges
6.5 Dash Mounted Adjustable FUEL Control
Transmission Control 4L80E
6.5 TD Performance Cool Air Intake
6.5 TD Turbo Downpipe
______________
COOLING:
WATER
Mist Injection
Aftermarket
Fan Clutch WARNING
6.5 TD Intercooler
ADVICE
Dual Auxiliary Electric Cooling Fans
6.5 Hi-Flow Dual Thermostat Cooling Upgrade
______________

6.5 Oil Cooler Hoses/Lines
NOTICE and Upgrade parts
______________
Serious POWER:
______________

6.5 Gear-Drive
Timing Set
WARNING
6.5 Pistons, Low Compression, ADVICE
______________

Headlight Light Switch Saver and Light Intensifier
Oil Pressure Switch Saver
Ignition Switch Saver
______________
6.5 Stock Airbox
6.5 Stock Exhaust
___________________
Recommended
Products for
the Duramax
Duramax 6600 Performance
______________
The Magnus-Moss Warranty Act ______________
GM 2001 HD Silverado / Sierra Power Launch Tour
______________
1979 Pontiac Limited Special Edition Trans-Am
______________

FUEL Controller

for GM 6.5 Liter Turbo Diesel Engines,
that have Electronic Fuel Injection.
NOTE: for updated info see NEW Site at www.A1Customs.com

Copyright © 1994-2007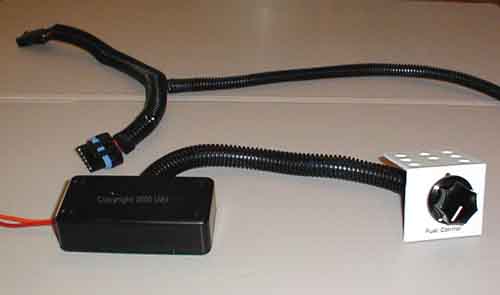 Key Benefits
Easy to change by turning knob on dash inside the cab.

Fuel ratio can be adjusted up or down.

Fuel can easily be adjusted by just turning the knob to change settings, in case EGTs [exhaust gas temperatures] ever become high or to enrich if using more boost. Computer 'chips' or 'reprogrammed computers' do not offer this adjustability.

Can be used with aftermarket performance 'chips' or 'programming' if desired, but not necessary. I use mine with my performance chip.

Added power and economy, when proper settings are used.

NO cutting or splicing the factory engine wiring harness
NO splicing the factory engine wiring harness
NO soldering
NO alteration of factory harness
NO need to burn hands on hot underhood parts to change settings.
NO need to stock $250 worth of fuel calibration resistors
One of a kind harness connector.

Documents of this unique product design and its exclusive design features have been filed with the United States PATENT Office.

Very easy to install with basic tools, mostly 'plug and play'. Stock resitor removal recommended.

Can be mounted in dash or using under dash mounting bracket.

OEM ( original equipment manufacturer ) connector for the PMD [( pump mounted driver, aka FSD ) made by the same company who makes them for GM.

Other mating connector did not exist so I had to create one, and it is of similar quality to the OEM connector



Easily reverts back to stock

Easy and Safe to change setting from inside the truck.

Underhood control harness quickly removes if desired for when bringing vehicle in for service.

Designed specifically for the GM 6.5L EFI Diesel.

MADE IN THE USA.


Sold WITH the BOOST CONTROL, BOTH products are only $299.95

inquire today at a1customs(at)aol.com
Due to some what seems to be all too typical and deliberate misinformation at a certain diesel page, we felt the need to clarify, as time passes it appears that their story or at least some details change..., it seems they are still learning but still giving out info and it seems they are wanting it to be taken as gospel. No as far as we keep hearing, they are NOT certified by GM, they are NOT GM Technicians and they are NOT even an ASE certified technician. First they said the control does not work, maybe because they could not figure it out how it works but we really think it is because they could not copy it. Then they said the control required a TDC offset learn procedure to read the resistor and recently they must have realized that yes indeed the PCM will read the fuel calibration resistance value, as it seems their stance has changed ever so slightly.
It seems the numerous people and satisfied customers of ours who wrote in to forums about the Controls working great are ignored by them, and if at their site they edit and delete out, and even ban member's. So if you read only badmouthing, lies and slander about better products, vendors or manufacturers there, it is because praise and testimonials about superior products they do not or cannot sell, or that they cannot sell due to protection, or those their advertiser pal does not sell are quickly removed by the moderator's there who watch like hawks. There are other very reputable vendors and manufacturers who share our views of the dishonesty and deception at those so called discussion forums. Our products are sold directly by us and therefore will NOT be sold via those discussion forums especially those of questionable ethics.. To Read more about "discussion forums" click here.

So unfortuantely it is up to you the consumer to decide who to believe, a site that charges you to read advertisements disguised as feature articles or product reviews to sell products and who deliberately keeps information from it's paying members OR do you believe someone who tells it like it is and has numerous satisfied customers. It's your choice, and since you are reading this at least you have been given the chance to make an informed decision.

About the Fuel Control, as stated, we recommend when making changes that you shut off the engine and restart to give the PCM a chance to read the resistance value.
The Fuel Control works and allows the user the ability to change fuel setting either up or down from stock and you get 10 settings. 8 of which are stock settings similar to oem fuel calibration resistors. Fact of the matter our fuel control works just like changing fuel calibration resistors, only much better and it's much easier.

Fuel calibration resistors sell for about $20+ each so for the ten that would be $250.00+ or more, the highest setting on our control is NOT available and if so would likely sell for more than $30.00, more like $50.00, so really the "value" is over $300.00 for the Fuel Control portion ONLY, but it is offered for less, BOTH the BOOST & FUEL CONTROLS TOGETHER are ONLY $299.95 Also if you had all the oem fuel calibration resistors they are small and could easily get lost.
The Fuel Control has, NO small parts to lose, but adding fuel requires more boost and therefore requires the Boost control, so we offer now offer the BOOST/FUEL CONTROL for only $299.95*.

To change out a stock fuel calibration resistor one has to allow time to let things cool down to avoid burning themselves, then access the PMD and if injection pump mounted that can be an enormous task in itself, then have to fish out the resistor off the delicate pins in the PMD connector, keeping in mind ruin a pin and you ruin the expensive pmd, and then be careful not to break the circuit board of the resistor if you plan to reuse it, this can be a major pain in the butt! So this is not something one can do quickly or would want to do often.
Now by drastic contrast, with the Fuel Control to change settings you simply turn a dial from the comfort of inside the truck, a lot easier, no fuss, no muss.
Modifications, Performance Enhancements & Upgrades, and the 'Growing' process.
As time and budgets permit you can 'grow' and add the desired performance parts and modifications in stages so you are not breaking the budget while trying to get your GM 6.5 Turbo Diesel to respectable performance levels.
Another great thing about the Boost, Fuel and Transmission Controls offered here are that they are adjustable, typically when you modify power levels the settings should be adjusted for optimum performance, with the Controls this is very easy and takes very little time.
With a "chip" or "programmed exchange computer" the setting is just that and non-adjustable, so then you may need to get another or have another new custom chip or computer programmed at even more expense or live with something that is not optimum.
As an example:
Say you get a 'chip' or 'exchange computer' well those have a fixed fuel setting, so once you add a performance exhaust system or even a high flow air filter, the engine be flowing more air, the computer may try to adjust for this but to get the best out of the parts you can add more fuel to keep the proper ratios to attain the optimum power levels.

Special note for 1996 and later models:
Additionally the 1996 and later OBD-II computers do not have a 'chip' that is easily changed and they usually require you purchasing and 'exchange' or modified computer. There are a few problems with that.
The computer you get is not your original and can be of unknown condition.
Once you 'exchange' your original computer it is gone, then you have no way to return your vehicle to stock easily, sure you could keep your computer but the core charge often is around \$600 so that is cost prohibitive, because you'd be spending around \$1200.00 or more just for the performance gains, and that is not very cost effective.
When GM does a 'software' or computer upgrade, you may lose the expensive exchange computer you may not even notice it missing until you notice decreased power levels, by then it may be too late to get your 'exchange' or modified computer back. Then would you want to let GM know you changed your computer?
If GM or its dealers discover you have a non-stock computer, they will likely try to VOID any warranty claims that are related to the computer system, and on these engines that is a LOT of systems that are connected to the computer and some very expensive parts to lose coverage for.
The Controls offered here are easy to remove and install so if you have any concerns about a trip to a dealership for warranty work or other service, you can simply remove them in minutes.

inquire today at a1customs(at)aol.com
Disclaimer: This product can adjust fuel beyond factory parameters, so its use could possibly void your warranty, and may not be legal for use on emission controlled vehicles in some areas, due to these facts buyer accepts all responsibility for it's use, and his/her actions, there is no warranty either expressed or implied as to use of this product. An improper fuel mixture could possibly cause higher EGT [exhaust gas temperature], this can be monitored by using an an EGT gauge and is highly recommended, if higher EGTs are noticed the fuel then can be adjusted using the controller. The Magnus-Moss Warranty Act prohibits a dealer or manufacturer from voiding your warranty unless a product is directly responsible for a failure.