IMPORTANT MUST READ NOTICES are Highlighted
MAIN

Pictures of our 6.5TD truck
NOTICE:
About
Discussion
Forums
Scroll Down for Duramax info & items

Recommended
Products for
the GM 6.5TD
Gauges
6.5 Dash Mounted Adjustable FUEL Control
Transmission Control 4L80E
6.5 TD Performance Cool Air Intake
6.5 TD Turbo Downpipe
______________
COOLING:
WATER
Mist Injection
Aftermarket
Fan Clutch WARNING
6.5 TD Intercooler
ADVICE
Dual Auxiliary Electric Cooling Fans
6.5 Hi-Flow Dual Thermostat Cooling Upgrade
______________

6.5 Oil Cooler Hoses/Lines
NOTICE and Upgrade parts
______________
Serious POWER:
______________

6.5 Gear-Drive
Timing Set
WARNING
6.5 Pistons, Low Compression, ADVICE
______________

Headlight Light Switch Saver and Light Intensifier
Oil Pressure Switch Saver
Ignition Switch Saver
______________
6.5 Stock Airbox
6.5 Stock Exhaust
___________________
Recommended
Products for
the Duramax
Duramax 6600 Performance
______________
The Magnus-Moss Warranty Act ______________
GM 2001 HD Silverado / Sierra Power Launch Tour
______________
1979 Pontiac Limited Special Edition Trans-Am
______________

REMOTE PMD / FSD HARNESS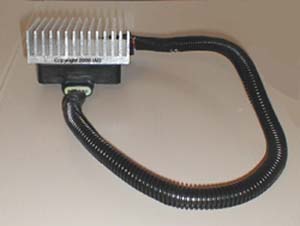 NOTE: PMD/FSD & PDC [cooler] shown are not included.
The stock location of the PMD [ pump mounted driver ] aka FSD [fuel solenoid driver] mounted on the injection pump near the hot engine is not a good location and often leads to premature failure of the electronics. Even when mounted off the pump on a 'cooler' the factory harness is not long enough to mount the unit in the best location away from the hot intake manifold.
If you have heard of high IATs [intake air temperatures mentioned, then you'll realize that mounting the parts on the hot intake is not the best choice either, especially if there is no air-gap [space] between the manifold and the parts.
Other aftermarket 'coolers' often require cutting and/or stretching the factory injection pump wiring harness and this creates stresses and can strain on the harness that could lead to problems.
Key Benefits: